November 28, 2017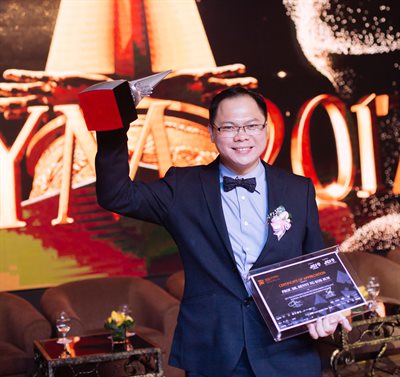 Profesor Ir. Dr. Denny KS Ng dari The University of Nottingham Malaysia (UNMC) mendapatkan gelar Ten Outstanding Young Malaysian (TOYM) di acara Ten Outstanding Young Malaysia Awards, di bawah kategori Perkembangan Ilmiah & Teknologi pada tanggal 9 September 2017 di Kuala Lumpur.
Profesor Ng telah menjadi akademisi di Fakultas Teknik Kimia dan Lingkungan UNMC selama 8 tahun dan sekarang merupakan Kepala Ikatan Bisnis dan Servis Inovasi (BEIS) di UNMC. Sebagai kepala BEIS, beliau secara aktif mempromosikan kolaborasi antara pihak industri, akademisi, dan pembuat kebijakan.
"Saya memenangkan penghargaan ini atas kontribusi saya dalam penelitian teknologi berkelanjutan yang bisa mengubah bahan limbah menjadi produk bernilai tambah. Teknologi yang dikembangkan ini tidak hanya bisa menghasilkan lebih banyak penghasilan untuk industri, tapi juga bisa mengurangi pembangkitan limbah dan emisi karbon kepada lingkungan. Saya juga memulai penelitian transdisipliner yang mengumpulkan berbagai macam pihak termasuk peneliti dari universitas, petani kecil, dan orang-orang industri untuk memperbaiki dan mengembangkan rantai nilai kelapa sawit yang berkelanjutan," kata Profesor Ng.
Di upacara penghargaan tersebut, terdapat total 8 penerima penghargaan dari 5 kategori yang berbeda. Dr. Chen Chee Dhang dari University Malaya dan Prof. Ir. Dr. Lam Wei Haur dari Tianjin University, China muncul sebagai penerima TOYM 2017 kategori Kepemimpinan Akademik dan/atau Prestasi. Penyihir Avery Chin dan seniman akrilik Stanley Goh mendapatkan TOYM 2017 kategori Pencapaian di bidang Budaya. Ir. Dr. Leong Wai Yie dan Pua Jayson memenangkan penghargaan TOYM 2017 kategori Perbaikan Personal dan/atau Prestasi. Sementara itu, CEO Viva City Global Mr. Jarryson Abraham G. Doss memenangkan TOYM 2017 kategori won Kepemimpinan Kemanusian/Sukarela.
Profesor Ng memulai Pusat Penelitian Kelapa Sawit Berkelanjutan (Centre of Sustainable Palm Oil Research – CESPOR) di UNMC. Pusat ini merupakan pusat penelitian lintas disiplin yang berfokus pada penelitian keseluruhan rantai nilai industri kelapa sawit, mulai dari perkebunan hingga konsumennya. Hingga kini, CESPOR telah sukses mengamankan banyak kontrak penelitian industri senilai lebih dari 2 juta ringgit. Bersama dengan para peneliti di CESPOR, para petani dan partner industri, Profesor Ng memulai strategi terintegrasi untuk mempromosikan rantai nilai yang berkelanjutan untuk industri kepala sawit.
Profesor Ng berkontribusi aktif di pengembangan strategi dan kebijakan sains nasional. Beliau terpilih sebagai perwakilan komunitas sains oleh Academy Science Malaysia di Dialog Meja Bundar TN50 yang eksklusif antara YAB Perdana Menteri dan Ilmuan Malaysia.
Selain fokus pada penelitian dan pengembangan, Profesor Ng juga terlibat dalam aktivitas perpindahan pengetahuan melalui proyek konsultasi industri. Beliau telah mengamankan bantuan penelitian dan industri lebih dari 5 juta ringgit dari pemerintah dan industri untuk mengembangkan penelitiannya dan mengkomersilkan hasilnya.
Salah satu hasil penelitiannya yang signifikan adalah untuk mengembangkan sistem perlakuan skala pra-komersil untuk mengubah air limbah menjadi biogas dan memulihkan air yang sudah diolah. Bersama dengan rekan kerjanya, beliau mengembangkan solusi terintegrasi, yang dikenal sebagai sistem Integrated Recovery and Regeneration (REGEN), untuk mentransformasi semua limbah padat dan cair dari pabrik kelapa sawit menjadi produk nilai tambah.
Profesor Ng telah menerima banyak penghargaan untuk hasil pekerjaannya. Penghargaan lainnya meliputi Young Engineer Award 2015 dari Institution of Engineers, Malaysia (IEM), Three Outstanding Young Persons of Negeri Sembilan (3OYP.NS) Awards, Junior Chamber International (JCI) di tahun 2014, Global IChemE Young Chemical Engineer of the Year 2012 dari Institute of Chemical Engineers (IChemE) UK, First Class Excellence Award of Yayasan Negeri Sembilan, 2009 dan Malaysia National Scholarship dari World Federation of Scientists di tahun 2017.
"Saya merasa terhormat untuk menerima pengakuan seperti ini dari penyelenggara. Saya akan terus membuat lebih banyak dampak kepada masyarakat dan memperbaiki perpindahan pengetahuan dari Universitas ke masyarakat. Selain itu, adalah penting untuk membentuk kebijakan nasional dan internasional untuk mendukung penelitian dan pengembangannya untuk keberlanjutan generasi masa depan kita," kata Prof. Denny ng.
Di tahun 2002, akademisi The University of Nottingham dan Direktur Centre of Green Technologies, Prof. Ir. Dr. Dominic CY Foo dianugerahi gelar TOYM dan juga menerima pengakuan yang sama seperti Profesor Ng.
---
Ingin kuliah di dapat pendidikan Nottingham tapi dekat dengan rumah? Yuk kuliah di UNMC! Info dan pendaftaran, hubungi EDUWORLD.
/(RPR)
Sumber: UNMC Website